The social network invested heavily in building highly-sophisticated automated advertising tools that could target specific groups of people who had expressed their preferences and interests on Facebook, from newlyweds who studied at Dartmouth College to hockey enthusiasts living in a particular zip code in Michigan…
Unlike most websites, where ads appear alongside content, ads on Facebook have directly appeared in people's newsfeeds since 2012. If users like a page, the administrators of that page can pay for ads and post content that will then appear in the cascade of information from publishers and friends that users see right away when they log onto Facebook.
Since the 2012 presidential election, Facebook has become an essential tool for political campaigns that wish to target potential voters. During the height of election season, political campaigns are among the largest advertisers on Facebook. Facebook has built a large sales staff of account executives, some of whom have backgrounds in politics, that are especially trained to assist campaigns in spreading their messages, increasing engagement, and getting immediate feedback on how they are performing.
The Trump campaign used these tools to great effect, while Clinton's campaign preferred to rely on its own social media experts, according to people familiar with the campaigns…
While Facebook has downplayed the impact of the Russian ads on the election, Dennis Yu, chief technology officer for BlitzMetrics, a digital marketing company that focuses on Facebook ads, said that $100,000 worth of Facebook ads could have been viewed hundreds of millions of times.
"$100,000 worth of very concentrated posts is very, very powerful," he said. "When you have a really hot post, you often get this viral multiplier. So when you buy this one ad impression, you can get an extra 20- to 40-times multiplier because those people comment and share it."
Watts, the Foreign Policy Research Institute fellow, has not seen the Facebook ads promised to Congress, but he and his team saw similar tactics playing out on Twitter and other platforms during the campaign.
Watts said such efforts appeared targeted especially heavily at mid-Western swing states such as Wisconsin and Michigan, where Democratic primary rival Sen. Bernie Sanders had beaten Clinton. Watts said the disinformation pushed by the Russians includes messages designed to reinforce the idea that Sanders had been mistreated by the Democratic Party and that his supporters shouldn't bother to vote during the general election in November.
"They were designed around hitting these fracture points, so they could see how they resonate and assess their effectiveness," Watts said. "I call it reconnaissance by social media."
Russian operatives used Facebook ads to exploit divisions over black political activism and Muslims – The Washington Post
Monday September 25th, 2017 at 5:19 PM
–
Mike Nova's Shared NewsLinks
Russian operatives used Facebook ads to exploit divisions over black political activism and Muslims – The Washington Post
---
Why Puerto Rico could be a Trump blind spot – Washington Post
---
roger stone – Google News: Roger Stone Threatens Lawmakers Ahead of House Testimony: I'll Shove Their Words "Down Their Throats" – Newsweek
| | |
| --- | --- |
| | mikenova shared this story from 1. Trump Circles: Elections from mikenova (16 sites). |
---
 roger stone – Google News
What You Need To Know About Trump's New Travel Ban
---
The new countries it includes are just a way to cover up the fact that the ban still primarily targets Muslims, experts said.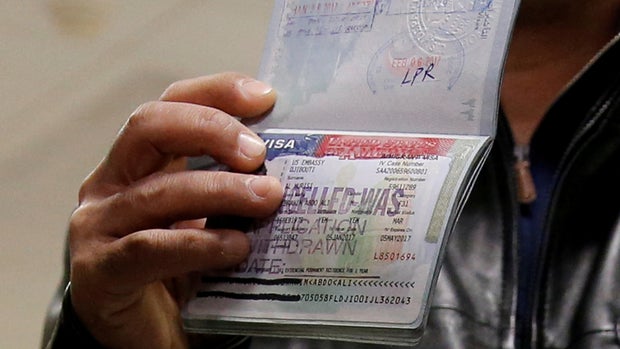 North Korea: Trump comments amount to declaration of war – Financial Times
---
MSNBC Leaves Out Tennessee Shooter's Nationality – The Daily Caller
---
MSNBC Leaves Out Tennessee Shooter's Nationality

The Daily Caller

25-year-old Emanuel Kidega 

Samson

 is originally from Khartoum, Sudan and legally immigrated to the United States in the 1990s. 

Samson

 … Interestingly, the newest iteration of President Donald 

Trump's

 travel ban eases travel restrictions on Sudan.

and more »
North Korea Escalates Rhetoric Against Trump
---
The whole world should clearly remember it was the U.S. who first declared war on our country, the country's foreign minister said.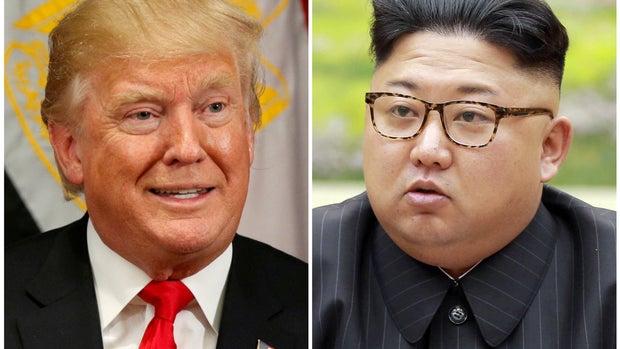 Trump and Trumpcare drag down the GOP – Washington Post
---
News Roundup for September 25, 2017
---
Lets start the week of with a heavy dose of reality. 1. Jared Kushner has been using a private email account to conduct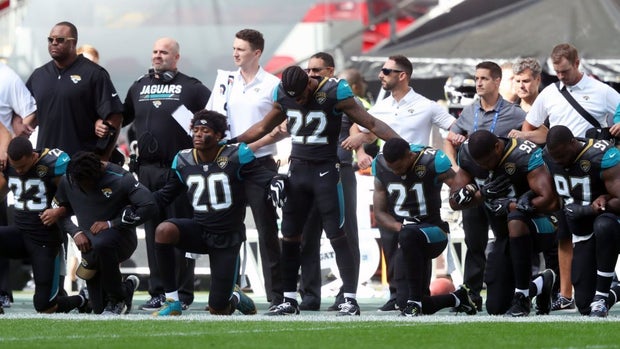 US violent crime jumps by most in 25 years
---
The US violent crime rate jumped last year by the largest amount in a quarter of a century, lending support to warnings by President Donald Trump and attorney-general Jeff Sessions of an epidemic of lawlessness. The annual increase was the second in a row.
The murder rate rose nearly 8 per cent last year and is 20 per cent higher than in 2014, according to the Federal Bureau of Investigation, which on Monday released its annual compilation of national crime statistics.
"The worrying violent crime increase that began in 2015 after many years of decline was not an isolated incident," the bureau said.
The FBI also adjusted upward its 2015 data, saying that the violent crime rate that year had increased by 3.3 per cent rather than the originally reported 3.1 per cent.
"For the sake of all Americans, we must confront and turn back the rising tide of violent crime . . . and send a strong message to criminals that we will not surrender our communities to lawlessness and violence," Mr Sessions said.
A crackdown on violent crime has been a centrepiece of Mr Sessions' rocky tenure as attorney-general. He has rewritten guidance for federal prosecutors, requiring them to charge suspects with the most serious offences and thus secure longer prison terms. He also has backed urban police departments that he says have been "unfairly maligned" for heavy-handed and racially discriminatory policing.
Despite the recent increase, the national rate of violent crime remains near a generational low and is roughly one-half of 1991's modern peak. Last year, there were 386.3 crimes such as murder, rape, robbery and aggravated assault per every 100,000 Americans, up from 373.7 in 2015, but far below the 758.1 rate reported in 1991.
The national murder rate of 5.2 per 100,000 people also is roughly equal to where it stood in 2008. "We're still nowhere near what these rates were in the 1990s," said Ames Grawert, a former prosecutor now with the Brennan Center for Justice at New York University.
The rate of property crimes such as burglary, car theft and arson also fell in 2016 for the 15th consecutive year, a fact that the FBI did not highlight. The reason for the continuing decline is not clear, but modern policing tactics, video surveillance and security systems may be combining for better property crime prevention, Mr Grawert suggested.
Two cities — Chicago and Baltimore — accounted for 15 per cent of the two-year murder increase from 2014 to 2016, Jeff Asher, a crime data analyst in New Orleans, said on Twitter. But of the cities that reported 20 or more murders in 2014, 70 per cent saw an increase over the two years, he said.
What It Really Means When Black People Who Protest Are Called 'Ungrateful'
---
To be black and to be conscious and to have a voice flies in the face of white supremacy.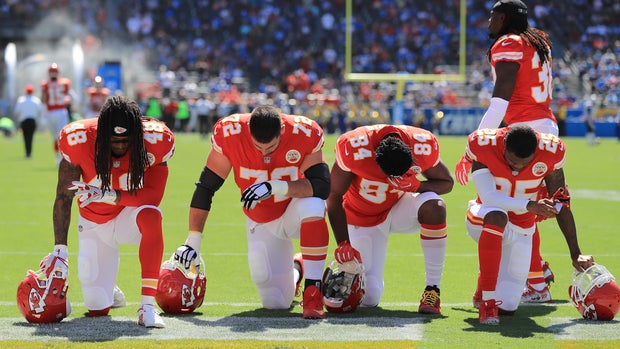 What's really driving Trump in his NFL feud? – BBC News
---
North Korea accuses Trump of making declaration of war
---
Foreign minister warns Pyongyang has right to shoot down US bombers
The Russia Investigation: What's New – The Moscow Times
---
North Korea accuses US of declaring war video
---
Foreign minister Ri Yong-ho says the world should remember that the US first declared war on our country as Pyongyang declares that all options are on the table in response. Ri referred specifically to a tweet from Donald Trump saying the North Korean leadership wont be around much longer
North Koreas foreign minister: Trump has declared war on our country
Today's Headlines and Commentary
---
North Koreas foreign minister said that the U.S. had declared war after U.S. warplanes flew along the east coast of North Korea on Saturday in a show of force, the Wall Street Journal reported. Eight U.S. aircraft remained in international airspace as they flew north of the demilitarized zone close to the North Korean shoreline. Speaking at the U.N., Foreign minister Ri Yong Ho said Pyongyang has the right to take countermeasures, including the right to shoot down U.S. strategic bombers, even if they are not yet inside the air-space border of our country. President Trump said on Saturday that North Koreas leaders would not be around much longer if they took any action against U.S. forces.
The Trump administration issued new travel restrictions that indefinitely ban most citizens of seven countries from visiting the United States, the Washington Post reported. The order includes nearly all the countries covered by the original travel ban and adds North Korea, Chad, and Venezuela to the list of Iran, Libya, Syria, Yemen, and Somalia. Sudan, which was among the countries affected by Executive Order 13780, was not included in the proclamation. The new order restricts travel by country, based on compliance with Department of Homeland Security standards. Its travel sanctions range widely: The order only imposes narrow restrictions on government officials in Venezuela, while banning nearly all travel from Syria and North Korea, according to the New York Times. While the original travel ban, which was a temporary measure, expired on Sunday, the new measure has no end date. It will take effect on October 18.
President Trumps son-in-law Jared Kushner used a private email account for White House business on numerous occasions, Politico reported. Kushner and his wife Ivanka Trump set up a private email server before starting work at the White House in January. He used the account for convenience often while traveling. Kushners lawyer acknowledged the emails in a statement on Sunday, saying Kushner had sent or received fewer than 100 work-related emails using the account.
German Chancellor Angela Merkel won a fourth term in parliamentary elections on Sunday, the Times reported. Merkels center-right Christian Democrats took a plurality of votes as the far-right Alternative for Germany (AfD) party came in third place. AfD nearly tripled its vote total from the previous election and will be the first far-right party to enter the Bundestag since 1961. Merkel will have to form a new coalition with smaller parties because her previous coalition partner, the Social Democrats, announced they would join the opposition.
Iraqi Kurdistan votes today in an independence referendum that regional powers strongly oppose,the BBC reported. Voters are expected to choose independence, despite declarations from Iraqs government that the referendum is unconstitutional and illegitimate. While the  plebiscite is non-binding, the Kurdistan Regional Government (KRG), which administers the semi-autonomous region, intends to use it as leverage in negotiations with Baghdad. On Saturday, Iran blocked flights to Iraqi Kurdistan as it conducted military exercises on the border, the Post reported. On Sunday, Iraqs prime minister issued an order in advance of the vote saying that the KRG should transfer control of all airports and border crossings to Baghdad and transfer responsibility for all financial transactions, including oil sales, to the central government. The KRG did not respond to the order.
U.S.-backed forces in eastern Syria captured a strategically-located gas plant from the Islamic State,the Journal reported. The Kurdish-led Syrian Democratic Forces (SDF) seized the Conoco gas plant, which was a major source of revenue for the Islamic State and is now a source of funding for the various rebel groups and militias fighting in Deir al-Zour province. The SDF said that Russian warplanes struck their positions near the gas plant last week, days after a Russian strike hit SDF lines near the city of Deir al-Zour, according to Reuters. In northwestern Syria, Russia and the Syrian regime escalated their strikes on rebel positions in Idlib and Hama provinces in response to a jihadist offensive, Reuters also reported. The bombing campaigns disrupted the tentative ceasefire that had brought a measure of peace to heavily-populated civilian areas in the area.
The U.S. military said it carried out airstrikes against an Islamic State training camp in Libya that killed 17 fighters, the Times reported. The six strikes against a training camp south of the city of Sirte were the first American bombings in Libya since January. Last year, an extensive U.S. air campaign helped drive the Islamic State out of Sirte. Currently, the Pentagon estimates that a few hundred fighters remain in Libyas deserts, where they take advantage of the political chaos in Tripoli to smuggle weapons and personnel in and out of the country. On Wednesday, the U.N. envoy to Libya said he would attempt to renegotiate a power sharing accord between the government and the armed factions that control large swaths of the country.
A roadside bomb killed three U.N. peacekeepers in northern Mali, the Times reported. The peacekeeping mission has suffered high casualties since its establishment in 2013. It is tasked with securing northern Mali after an armed rebellion by local ethnic Tuareg militias and Islamist groups took control of that region in 2012. The U.N. has 12,000 uniformed personnel in Mali and has suffered 133 casualties since 2013. At the U.N., Malis president highlighted a new counterterrorism force for region; it will be composed of troops from Burkina Faso, Chad, Mali Mauritania, and Niger.
Iran tested an intermediate range ballistic missile on Saturday after unveiling it in defiance of U.S. condemnation, the Journal reported. Iranian media said the Khoramshahr missile is capable of traveling more than 2,000 kilometers. Iranian President Hassan Rouhani said on Friday that he would not ask anybodys permission to defend his country after President Trump criticized Irans missile program and the Iran nuclear deal.
ICYMI: This weekend, on Lawfare
Vanessa Sauter posted the Lawfare Podcast, featuring audio from a lecture by Stephan Haggard on the North Korean nuclear and missile programs.
Shannon Togawa Mercer previewed the result of the German election and its implications for transatlantic relations.
Colin Clarke argued that one of the best ways to identify and disrupt returning foreign fighters from the Islamic State is focusing on their criminal activities and networks.
Matthew Kahn posted the White Houses new immigration proclamation and associated documents.
Email the Roundup Team noteworthy law and security-related articles to include, and follow us on Twitter and Facebook for additional commentary on these issues. Sign up to receive Lawfare in your inbox. Visit our Events Calendar to learn about upcoming national security events, and check out relevant job openings on our Job Board.
Congress prepares to drop the subpoena hammer on Donald Trump
---
Here's how you know the investigations into Donald Trump's scandals are reaching a point where he's afraid of what's going to happen to him: he and his White House are now outright refusing to cooperate with the requests of investigators, even while facing the prospect of running afoul of the law in the process. As a result, congressional committees are preparing to drop subpoenas on Trump's head which could have unprecedented consequences.
Although Democrats like Adam Schiff and Elijah Cummings are struggling to get their Republican majorities on their respected House committees to agree to subpoenas, the Democrats on the Senate Judiciary Committee are successfully moving forward. The committee chair, Republican Chuck Grassley, has confirmed to CNN that subpoenas are being drafted against the White House itself (link), and that the next steps with those subpoenas will essentially be Democratic Senator Dianne Feinstein's call.
If and when the Senate Judiciary Committee subpoenas Trump and his White House to turn over the documents and records in question, the nation will be facing a potential constitutional crisis if Trump still refuses to comply. The Senate could hold Trump and/or his top officials in contempt of Congress, and they could convince a judge to order the documents to be turned over. If Trump and his people refuse to honor the court order, the judge could then theoretically order law enforcement officers to enter the White White and seize the documents. Anyone in the White House who tries to block the move, short of Trump himself, could be arrested for it.
As we head into this next phase of the investigation, we're about to come up against the kinds of lines that even Richard Nixon ultimately refused to cross once he realized his Watergate scandal was going to take him down. Now we wait to see how Donald Trump handles the realization that his own demise is inevitable. Contribute to Palmer Report
The post Congress prepares to drop the subpoena hammer on Donald Trump appeared first on Palmer Report.
'Rock bottom': Weiner gets 21 months in prison for sexting – WRAL.com
---
A Divider, Not a Uniter, Trump Widens the Breach – New York Times
---

New York Times

A Divider, Not a Uniter, Trump Widens the Breach

New York Times

In his brief career as president and a candidate for president, Mr. 

Trump

 has attacked virtually every major institution in American life: Congress, the courts, Democrats, Republicans, the news media, the Justice Department, Hollywood, the military

…and more »
Violent crime increased in 2016 for a second consecutive year, FBI says – Washington Post
---
Merkel tries to build coalition after vote that puts far right in parliament
---
Source: Merkel tries to build coalition after vote that puts far right in parliament
The Only Way to Defend Against Russias Information War The New York Times
---
Source: The Only Way to Defend Against Russias Information War – The New York Times
Violent Crime in U.S. Rises for Second Consecutive Year The New York Times
---
Source: Violent Crime in U.S. Rises for Second Consecutive Year – The New York Times
What Is Mueller Looking for in the Facebook Russia Ads? – Newsweek
---

Newsweek

What Is Mueller Looking for in the Facebook Russia Ads?

Newsweek

The Wall Street Journal and CNN recently reported that Facebook provided data about Russian advertising purchases made in the run-up to the 2016 election to Special Counsel Robert 

Mueller

 pursuant to a search warrant. According to the WSJ and CNN …
1:49 PM 9/19/2017 FBI Severely Underreported How Many Times It Authorized Informants to Break the Law
---
FBI Severely Underreported How Many Times It Authorized Informants to Break the Law – Gizmodo Tuesday September 19th, 2017 at 1:46 PM Fbi – Google News 1 Share Gizmodo FBI Severely Underreported How Many Times It Authorized Informants to Break the Law Gizmodo This year, the FBI appears to for the first time have overlooked a reporting obligation established by … Continue reading"1:49 PM 9/19/2017 – FBI Severely Underreported How Many Times It Authorized Informants to Break the Law"
–