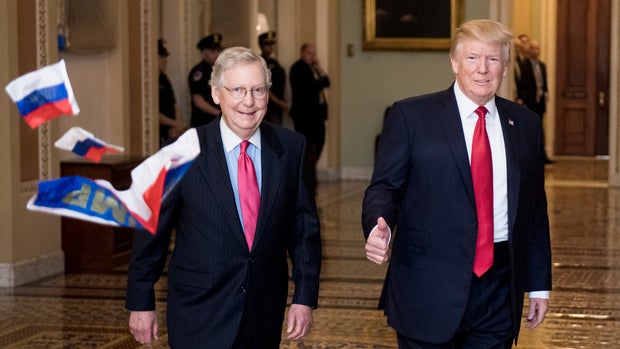 'Trump Is Treason!': Protester Throws Russian Flags At President
Latest Post on G+
–
Mike Nova's Shared NewsLinks
Mike Nova's Shared NewsLinks
'Trump Is Treason!': Protester Throws Russian Flags At President
---
A liberal activist infiltrated a press area outside a Senate GOP lunch.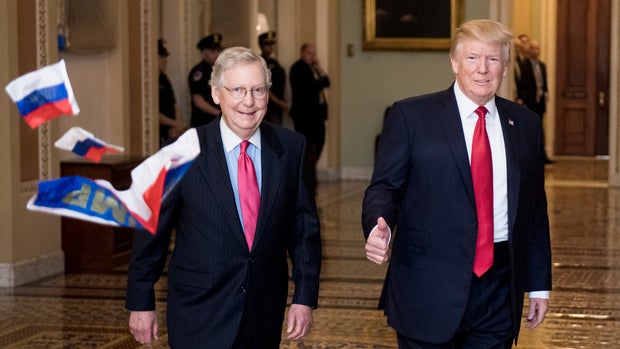 Launch probes! Congressional GOPers try desperately to take focus off Trump – CNN
---
GOP opens investigation into Obama Justice Department – The Mercury News
---
Putin at Valdai: A Deep Dive Into Long-Standing Grievances – EurasiaNet
---
Today's Headlines and Commentary
---
The Trump administration will allow refugee admissions from all countries to resume and will put in place stricter screening measures, the Wall Street Journal reported. The refugee program was put on hold this summer as part of the administrations travel ban for a 120-day period that expires on Tuesday. The increased vetting measures will include more extensive collection of biographical data and investigation into applicants social media history.
Senator John McCain called for a new congressional authorization for the use of military force for U.S. military operations overseas, Politico reported. McCain, the chairman of the Senate Armed Forces Committee, said the recent deaths of four U.S. soldiers in Niger called into question the extent of U.S. military operations around the globe. Secretary of State Rex Tillerson and Secretary of Defense James Mattis will testify at a Senate hearing on the authorization for the use of military force next week.
Pakistans prime minister pledged to support U.S. counterrorism efforts during a meeting on Tuesday with Secretary of State Rex Tillerson, Reuters reported. Prime Minister Shahid Khaqan Abbasi affirmed Pakistans continued support for the war against terror and said the country had produced results in efforts against Al Qaeda and the Taliban.
The State Department warned Myanmars military leadership that it held them accountable for atrocities committed against the Rohingya ethnic minority, Reuters reported. A spokesperson for the State Department said on Monday it is considering targeted sanctions measures against officials that have facilitated human rights abuses. More than 600,000 Rohingya have left Myanmar as refugees since the crisis began.
Michael Cohen, a former attorney for President Trump, will speak with congressional investigators from the House and Senate intelligence committees this week, NBC News reported. In August, NPR reported that Cohen contacted Russian government officials to get assistance with a permit for a Trump real estate deal in Moscow.
The U.S.-led coalition in Syria denied striking Syrian-government held positions in Deir al-Zour city, according to Reuters reported.  Syrian state television accused the coalition of carrying out airstrikes that killed at least 14 people on Monday. A coalition spokesperson said its air forces had not conducted any strikes in the Syrian-government held parts of the city.
The Department of Justice will allow tech companies to alert their customers to law enforcement requests for their personal data, Ars Technica reported. Deputy Attorney General Rod Rosenstein said in a memo last week that the department would drop its practice of requiring gag orders for companies that surrender customer data to legal authorities. In response, Microsoft dropped a lawsuit against the Department of Justice challenging the gag orders.
British lawmakers asked Facebook for information about Russia-linked advertisements on its platform during the Brexit vote and 2017 parliamentary elections, Reuters reported on Tuesday.  Damian Collins, the head of a parliamentary inquiry into false and misleading news stories, made the request as part of an effort to understand the impact of foreign actors on social media.
A military judge ordered the civilian defense team for Rahim al-Nashiri back to the military court after the lawyers quit last week over ethical conflicts, the Miami Herald reported. Judge Vance Spath contradicted militarys chief defense counsel Gen. John Bakers order to dismiss the civilian members of al-Nashiris defense team. Baker had dismissed the lawyers after they brought up an ethical conflict of interest over a classified matter. Judge Spath ordered the attorneys to appear at the next court hearing in two weeks.
Iraqi militias launched an offensive against a Kurdish-held oil pipeline hub near the Turkish border on Tuesday, Reuters reported. Kurdish forces pledged to defend the area, which is a conduit for oil exports that provide vital revenue to the Kurdish Regional Government.
A bipartisan group of senators will introduce a bill that would require the FBI to obtain warrants to search data collected under the authority of Section 702 of the Foreign Intelligence Surveillance Act, Reuters reported. Senators Ron Wyden and Rand Paul said their bill to reauthorize the intelligence communitys surveillance authorities under Section 702 would include more transparency and oversight mechanisms. It would allow individuals to more easily challenge surveillance in court and would expand the role of the Privacy and Civil Liberties Oversight Board.
ICYMI: Yesterday on Lawfare
Matthew Kahn analyzed the legislative history behind the 25th Amendment and its applications in cases of presidential disability.
Josh Blackman argued that the Hawaii District Courts injunction against the most recent travel ban order does pass the rational basis test.
Vanessa Sauter posted a letter from a group of former national security officials urging the reauthorization of FISA Section 702 surveillance authorities.
Sabrina McCubbin summarized pre-trial motions in Smith v. Trump, a case challenging the application of the 2001 AUMF to the Islamic State.
Rick Ledgett argued that the only way for Kasperksy to regain users trust would be for it allow independent monitoring of all its anti-virus activities.
Matthew Kahn flagged a draft Section 702 reauthorization bill from the Senate intelligence committee.
Garrett Hinck described a strange sequence of events related to exiled Chinese billionaire Guo Wengui and the Trump administration.
Email the Roundup Team noteworthy law and security-related articles to include, and follow us on Twitter and Facebook for additional commentary on these issues. Sign up to receive Lawfare in your inbox. Visit ourEvents Calendar to learn about upcoming national security events, and check out relevant job openings on ourJob Board.
Protester Throws Russian Flags At Trump As He Arrives For Capitol Hill Tax Lunch – NPR
---
Cambridge Analytica, Trump, and Brexit – Google Search
---
Cambridge Analytica and Brexit – Google Search
---
Late-night hosts blast Trump's Fox interview: 'He obviously has a terrible concussion'
---
Comics including Stephen Colbert, Trevor Noah and Seth Meyers, addressed Trumps call with the widow of a fallen soldier and the GOPs tax reform plan
Late-night hosts on Monday discussed Donald Trumps ongoing feud with congresswoman Frederica Wilson, the GOPs plan for tax reform, and Trumps false statement that he is allowing previously unreleased files about the JFK assassination to be made public.
This weekend, the president sat down with Fox News host and salon haircut photo number seven, Maria Bartiromo, and Maria immediately held Trumps feet to the fire to make sure they were nice and cozy, began Stephen Colbert. The host then showed footage from Bartiromos interview with the president, in which she begins by crediting him for the stock market boom.
Related: Trevor Noah: 'If you work for Trump, find a new job or stock up on adult diapers'
Related: Trump bickers with soldier's widow over condolence call
NPR News: 10-24-2017 11AM ET
---
NPR News: 10-24-2017 11AM ET
Download audio: https://play.podtrac.com/npr-500005/npr.mc.tritondigital.com/NPR_500005/media/anon.npr-mp3/npr/newscasts/2017/10/24/newscast110625.mp3?orgId=1&d=300&p=500005&story=559791536&t=podcast&e=559791536&ft=pod&f=500005
VOA Newscasts – October 24, 2017
---
Give us 5 minutes, and we'll give you the world. Around the clock, Voice of America keeps you in touch with the latest news. We bring you reports from our correspondents and interviews with newsmakers from across the world.
Download audio: https://av.voanews.com/clips/VEN/2017/10/24/20171024-120000-VEN119-program_hq.mp3
Mike Nova's Shared NewsLinks Review In Brief
---
Mike Nova's Shared NewsLinks Review In Brief
The World Web Times – worldwt.com


Shared Articles | The World News and Times Information Management Service: Current World News | Reviews of media reports | Selected reading lists | Video and Audio News | News Topics RSS Feeds | News, Reviews, Analysis, Opinions
10/24/2017 – This is the attempt to control and manage the electoral system, not just to undermine trust in it globalsecuritynews.org/2017/10/24/100
---
9:04 AM 10/24/2017 – TRUMP-RUSSIA INVESTIGATION: Russian troll farms were partly located on U.S. soil – The Daily trumpinvestigations.org/blog/2017/10/2
---
Exclusive: Russian Propaganda Traced Back to Staten Island, New York wwtimes.com/2017/10/24/exc
---
8:44 AM 10/24/2017 – "The State Department owes the American people answers…" theworldnewsandtimes.com/2017/10/24/844
---
Trump officials suddenly revoke visa of hero being hunted by Putin – Shareblue Media wwtimes.com/2017/10/24/tru
---
8:33 AM 10/24/2017 Trump officials suddenly revoke visa of hero being hunted by Putin fb.me/8MjouiLiG
---
8:33 AM 10/24/2017 Trump officials suddenly revoke visa of hero being hunted by Putin fb.me/8MjouiLiG
---
Exclusive: Russian Propaganda Traced Back to Staten Island, New York
| | |
| --- | --- |
| | mikenova shared this story from Public RSS-Feed of Mike Nova. Created with the PIXELMECHANICS 'GPlusRSS-Webtool' at http://gplusrss.com. |
---
Exclusive: Russian Propaganda Traced Back to Staten Island, New York
10:38 AM 10/24/2017 Dunford has questions about Niger deaths; Tillerson jets t…
---
10:38 AM 10/24/2017 Dunford has questions about Niger deaths; Tillerson jets to Iraq, Afghanistan | Global Security News


1. US Security from mikenova (78 sites) Washington Free Beacon: NATO Plans to Add Two New Commands to Counter Russia Threat National Security: Pakistan vows cooperation in fight against terror groups Washington Free Beacon: Fmr. Obama Advisor: Sanders Health Care Plan Will Sink the Democrats The Nat…
Russian troll farms on U.S. soil – Google Search
---
Russia's Cyber Warfare Has Bigger Aims Than Electing Donald Trump
---
Russia is meddling in the U.S. presidential election. From the email hack of the Democratic National Convention in July to the cyberattacks on Hillary Clinton's campaign and recent reports of hacks at The New York Times and other media organizations, evidence is mounting that Moscow has launched a sophisticated effort to interfere with and disrupt the November elections.
But not for the reasons you might think. At first glance, it looks like Russia favors Donald Trump and wants to undermine Clinton. And why not? Trump is certainly the pro-Kremlin candidate. He has nice things to say about Russian strongman Vladimir Putin, and even said he would be "looking into" recognizing Crimea as part of Russia. It would be easy to conclude, as some commentators have, that Putin wants to see Trump in the White House.
However, the truth isn't quite that simple. As tempting as it is to see Russia as a partisan player on Trump's side, the Kremlin's goal isn't to see a particular candidate win. The goal is much more insidious: to undermine American confidence in our political system. That is, the Kremlin's real target is liberal democracy itself.
Whether Trump realizes it or not, he is nothing to Putin but a useful idiot in this larger effort.
Russian Cyberattacks Follow A Certain Ruthless Logic
To understand Russia's long game, consider its methods. On Monday, Yahoo News reported the FBI discovered evidence that foreign hackers penetrated two state election databases, in Arizona and Illinois. The hacks prompted the FBI's Cyber Division to issue a "flash" alert to state election officials across the country, warning them to enhance the security of their computer systems. Federal officials believe hackers managed to download the personal data of some 200,000 Illinois voters and introduce malicious software into Arizona's voter registration system.
As with other high-profile cyberattacks this summer, this one shows signs of Russian state-sponsorship. According to Yahoo News, the FBI alert included eight IP addresses that were the source of the two attacks, and one of those addresses has surfaced before in Russian criminal underground hacker forums.
Just like the DNC and Clinton hacks, official sources confirmed this latest hack was authentic. Whatever emails or documents the Russians release through Wikileaks or other channels, everyone will know the leaked information is legitimate, not fabricated. The next logical step for Russians, having established the veracity of the information they leak, will be to introduce false and misleading information.
Disinformation Is A Weapon Of War
Injecting disinformation into the news cycle is a well-established tactic of Russian influence operations, hearkening back to Cold War programs the Soviets called "active measures," in which secret agents would plant false news stories in the Western press. Disinformation of this kind has long been an important aspect of Russian military doctrine, the idea being that it's easier, and cheaper, to persuade Russia's enemies than to kill them. The difference now is that technology makes it possible to coordinate false information and flood news cycles and social media networks in ways that were impossible during the Cold War.
On Sunday, The New York Times published a detailed account of Russia's sprawling and highly sophisticated disinformation campaigns underway across the globe. During recent public debates in Sweden about entering a military partnership with NATO, for example, social media was inundated with false information about what the partnership would entail, including wild claims that NATO would stockpile secret nuclear weapons on Swedish soil and it would have the authority to attack Russia from Sweden without the government's approval.
None of it was true, but the sheer volume of social media echoing these claims was enough for them to seep into the mainstream news cycle. According to the Times report, when Sweden Defense Minister Peter Hultqvist traveled the country to promote the NATO pact, he repeatedly faced questions about the false claims.
Something similar happened during the recent coup attempt in Turkey, with a flood of Twitter posts claiming the U.S. airbase at Incirlik had been surrounded by thousands of armed police. The story didn't gain the same traction as the anti-NATO narrative did in Sweden, but it demonstrates the extent to which Moscow is willing to employ Twitter trolls in coordination with official news channels like <a href="http://RT.com" rel="nofollow">RT.com</a> and Sputnik, the two main state-controlled media outlets that publish in English, to advance false storylines and distorted information.
Soviet 'Active Measures' Are Back
Here in the United States, something similar has been underway for months, with suspiciously coordinated social media trolls shilling for Trump on Twitter, amplifying his anti-NATO and anti-Ukraine pronouncements. It took the mainstream media a while to catch on to this—conservative writers like Erick Erickson were writing about pro-Trump Russian troll farms back in April—but now it's undeniable that Moscow is working on multiple fronts to disrupt our elections and give credence to Trump's repeated claims that the election, like the entire politic system, is "rigged."
The Russians have chosen their moment well. American confidence in public institutions is languishing at historic lows, while the vast majority of Americans report anger and frustration at the federal government. That lack of trust has helped propel Trump, a political outsider, to the top of the Republican Party ticket. It fueled the insurgent campaign of Bernie Sanders. Now Moscow is exploiting it in the service of a grand strategy, with far greater implications than a single U.S. presidential election.
After all, if Putin can convince Americans that liberal democracy is nothing but a sham, he will accomplish what no leader of the Soviet Union ever could. Decades after we thought it was over, Russia will have finally won the Cold War.
Russian Propaganda Traced Back to Staten Island, New York
---
Russia's propaganda campaign targeting Americans was hosted, at least in part, on American soil.
A company owned by a man on Staten Island, New York, provided internet infrastructure services to DoNotShoot.Us, a Kremlin propaganda site that pretended to be a voice for victims of police shootings, a Daily Beast investigation has found.
Every website needs to be "hosted"—given an Internet Protocol address and space on a physical computer—in order to be publicly viewed. DoNotShoot.Us is a website run out of the Kremlin-backed "Russian troll farm," according to two sources familiar with the website, both of whom independently identified it to The Daily Beast as a Russian propaganda account. It was hosted on a server with the IP address 107.181.161.172.
That IP address was owned by Greenfloid LLC, a company registered to New Yorker Sergey Kashyrin and two others. Other Russian propaganda sites, like BlackMattersUs.com, were also hosted on servers with IP addresses owned by Greenfloid. The company's ties to Russian propaganda sites were first reported by ThinkProgress.
The web services company owns under 250 IP addresses, some of which resolve to Russian propaganda sites and other fake news operations. Others are sites that could not be hosted at other providers, like "xxxrape.net." There's also a Russian trinket site called "soviet-power.com." (The IP address that pointed to DoNotShoot.Us now resolves to a botnet and phishing operation, and is currently owned by Total Server Solutions LLC.)
The use of a tiny, no-questions-asked hosting company run by a man living in New York shows the Kremlin-backed troll farm's brazen use of Americans and American companies to conduct its disinformation campaign.
Over the past two months, Russia's efforts to integrate Americans and U.S. communities into its vast propaganda campaigns has become clearer, as social media companies began shuttering accounts originating from Russia's Internet Research Agency, or troll farm.
In September, The Daily Beast discovered that one of the troll accounts, "Being Patriotic," organized 17 in-person rallies for Donald Trump on one day in Florida alone. Last week, BuzzFeed reported that unwitting Americans were used to amplify Russian social media accounts pretending to be a Black Lives Matter offshoot.
Now, it appears Russia's influence campaign attempted to host that campaign within the United States.
DoNotShoot.Us purported to be a collection of stories about "outrageous police misconducts [sic], really valuable ones, but underrepresented by mass media" in an effort to to "improve the situation in the U.S."
The site served as a de facto database of shootings by police across the U.S, with each entry accompanied by anti-police invective. (An entry for the assault of a man named Ross Flynn lists the "reported reason" for the incident as "resisting and evading arrest"—and the "real reason" as "cops don't treat detained people as humans.")
The site also features a list of petitions (No. 2 on the most popular list: "Stop Police Violence Against Pit Bulls, Justice For Mr. Brown") and an archive of graphic videos that have since been pulled from the web.
Thank You!
You are now subscribed to the Daily Digest and Cheat Sheet. We will not share your email with anyone for any reason.
Greenfloid also hosted BlackMattersUs.com and other sites designed to impersonate African-American activists that have been identified as Russian troll accounts by independent Russian news agency RBC. BlackMattersUs.com claimed it was a "nonprofit news outlet" for the "African-American community in America," but often used its page to smear Hillary Clinton and push Kremlin talking points.
While hosted in America, content for the sites was generated by paid staffers in St. Petersburg.
Former FBI agent Clint Watts, an expert on Russia's propaganda campaign, said the Kremlin's use of an American host is true to form.
"All of these placements are designed to create anonymity around the source and make it look authentic—like there's real, grassroots support around the world for these interests," Watts told The Daily Beast.
"You don't want these to trace back to Russia, so you pick a believable community closest to your target. It's not necessarily that they're directed Russian agents, but they can go through Russian communities—witting or unwitting—outside of Russia."
Quiet Neighborhood, Nasty Material
Sergey Kashyrin now lives in a quiet Staten Island neighborhood of bungalows, semi-detached homes, and cracked sidewalks just a few blocks from Midland beach. It is still reeling from the devastation of Hurricane Sandy. When a reporter visited Monday morning, Kashyrin's street was blocked off by road work signs and mud-caked tire tracks traced the roads. On nearly every block, construction crews were still at work repairing boarded up homes amid tall marsh grasses towering in overgrown yards.
In business filings, Kashyrin and the two other registrants of Greenfloid LLC all gave their address as a well-kept beige semi-detached house in the middle of a quiet block. It has a lush and green backyard, with a greenhouse and coop, and tall plants that peek out of the front-facing windows. The house, if not the block, seems to have avoided much of the devastation; across the street are wild lots where other homes once stood. Kashyrin wasn't home, and a woman suggested a reporter call him.
Reached by phone, Kashyrin gave a string of answers, many of them contradictory. He initially said he didn't want to talk about Greenfloid LLC. Then he said he was available to talk, and said that Greenfloid is part of the fight against Russian propaganda—nevermind the fact that his company hosted it.
Kashyrin next pivoted to say his service didn't consciously provide hosting to the Russian trolls—despite evidence to the contrary—but instead unknowingly rented them virtual servers that they used to funnel traffic to a different hosting company in Russia. He declined to name the company. "We were not hosting those websites. The guys bought virtual servers, and they put the proxy," Kashyrin said. "It just redirected to the original site in Russia."
Such an arrangement would have the same effect as hosting, while slowing the troll websites and consuming needless bandwidth. But it's conceivable the Russians used such a scheme to make it easier to quickly relocate the sites without having to copy their contents. It's largely a distinction without a difference—Kashyrin's firm was still serving the Russian propaganda through its servers and internet, even if the images and text were ultimately held in Russia as Kashyrin claims.
When asked why the company hosts so many fake news sites, often angled toward Russian interests, Kashyrin said that there are likely simply many customers "from there who are doing that."
'It's Funny, Having Russian Propaganda'
One thing that's clear, however: Greenfloid is more than just a stand-alone firm. Greenfloid is listed on the site of its Kharkiv, Ukraine-based parent company ITL as its North American division, and a number listed for Greenfloid dials into a Russian-language menu for ITL.
This isn't the first time ITL has been called out over allegations its servers were used to host sites run by the Russian troll factory. It also hosted the website Whoiswhos.me, which revealed the identities and personal information of Russian opposition bloggers.
A number of Russian bloggers and activists had their names, photos, and personal information revealed on WhoisWhos. At least seven of them were physically assaulted, and some had their cars burned, the Russian news site Fontanka said in June 2016.
ITL was alerted and the site was taken offline, Fontanka reported. (Kashyrin said it was around the same time that Greenfloid banned proxies, disassociating itself from the two Russian sites. He declined to provide a link to the proxy ban policy because "it's too late today.") ITL also took down a separate news site, registered at the same time as WhoisWhos, that reported on the Russian-backed war in Ukraine from a pro-Russian perspective. Fontanka said its investigation strongly suggested the sites were linked to the Russian troll factory because of the similarities, in style and content, to sites run by the group.
Russian hackers are also apparently happy with ITL's service. On one popular Russian crime forum, a user wrote that ITL's support team "does not ask anything," and that users can pay in anonymous Bitcoin currency.
All the companies link back to Dmitry Deineka, a Ukrainian national who lives in the country's second-largest city, Kharkiv.
"I'm sorry, but we don't give out information about our clients, that violates the NDA and company rules," Deineka wrote to The Daily Beast by email. He denied that a "Russian troll factory" was among their clients.
Kashyrin added that intellectuals in Kharkiv, especially the IT crowd, dislike Putin and would not support his agenda.
"We never support Russian propaganda, because the headquarters of our company is in Ukraine," he added.
But the explanation is hardly iron-clad. Residents of Kharkiv are predominantly Russian-speaking, and the city has been symbolically important to the Russian-backed separatist movement.
So Kashyrin pivoted again.
"It's fun[ny], having Russian propaganda using Ukrainian company," Kashyrin said, despite his claim moments earlier that he would never host Moscow's agitprop. "It might be the reason these guys choose our company as the provider."
ITL, an acronym that has different meanings including Integrated Technology Laboratory, is also registered as an LLC in Las Vegas, Nevada.
In emails to The Daily Beast, Deineka compared his company's services to those of Amazon, "only much smaller," and said he couldn't confirm whether it was used to host BlackMattersUS or DoNotShoot.Us even if he wanted to.
Deineka reiterated that he does not have the troll factory or its aliases listed among his clients. "If that name was in a client's profile, we would have immediately denied him services," Deineka said.
"Let me try to explain the technical question," Deineka wrote. "We are not hosting providers who put sites up. We provide VDS (virtual dedicated server) services and can't check, without interrupting our client's server operations, what the user does.
"The user can host sites, can use the VDS as a proxy-server, and so on," Deineka added. "We're like Amazon WS (Web Services), only significantly smaller. We rent servers, we don't host sites."
Amazon Web Services does, in fact, allow customers to host websites, and ITL's website says it offers "convenient and fast hosting for sites."
'Now I've Got My Face Plastered on the Site!'
BlackMattersUs.com, which was hosted by Greenfloid, was revealed to be a Russian troll site earlier this month by the independent Russian news organization RBC. It sometimes posted content supplied by social media followers like Porsche Kelly, a poet who emailed them her poem after following BlackMattersUS on Instagram.
She was surprised when told by a reporter last week that the site was operated by Russian trolls. An editor had promptly responded to her email, saying the site was always happy to share "thoughtful and powerful messages."
"And now I've got my face plastered on the site!" Kelly said.
Facebook, Linkedin, and Twitter have suspended social media pages related to the site.
But Greenfloid's business continues. The most popular sites hosted by the companies are two MP3 downloading destinations and Bible.ru, which is a link to annotated bibles in Russian.
—with additional reporting by Joseph Cox
Just Security: The Early Edition: October 24, 2017
---
Before the start of business, Just Security provides a curated summary of up-to-the-minute developments at home and abroad. Heres todays news.
NIGER
The Chairman of the Joint Chiefs of Staff Gen. Joseph Dunford provided further details about the Oct. 4 attack in Niger on U.S. Special Forces members yesterday, revising the timeline of the attack and the response, and raising questions about the U.S. operation and its support structures. Ben Kesling reports at the Wall Street Journal.
The U.S. military did not call for support from French forces for about an hour after the attack took place and it took the French another hour for their fighter jets to arrive. Dan Lamothe reports at the Washington Post, setting out other issues that have created questions, including the length of time it took to recover the body of Sgt. La David Johnson.
We owe the families as much information as we can find out about what happened, and we owe the American people an explanation, Gen. Dunford said yesterday, pledging to be forthcoming about information amid a perception that the Department of Defense needs to do better to inform Congress about the incident. Rebecca Kheel reports at the Hill.
The soldiers were ambushed by terrorists tipped off by residents sympathetic to local Islamic State affiliates, according to three U.S. officials with knowledge of the matter, Gen. Dunford did not address the emerging theory when briefing reporters yesterday. Courtney Kube, Carol E. Lee and Ken Dilanian report at NBC News.
Congress must have an updated authorization for the use of military force, Senate Armed Services Committee John McCain (R-Ariz.) said yesterday, telling reporters that he has been working with Sen. Jack Reed (D-R.I.) on a proposal, McCain also telling reporters that congress expects more information about the Niger attack. Elana Schor and Connor OBrien report at POLITICO.
The Oct. 4 ambush draws attention to the U.S.s role in Niger and other African countries, and prompted questions about authorization for military action, the U.S.s impact in the fight against jihadist insurgency in the Sahel region and the Trump administrations Africa policy. Ishaan Tharoor provides an analysis at the Washington Post.
The potential for the U.S. military to become entrenched in Niger and the Sahel region may mirror U.S. involvement in the Middle East; to help avoid a quagmire the U.S. should devise a strategy that understands the dynamics of power and the grievances that allow terrorist groups to thrive. Max Bearak writes at the Washington Post.
SYRIA
The final phase of the fight against the Islamic State group in Syria is in the eastern province of Deir al-Zour where the U.S.-backed Syrian Democratic Forces (S.D.F.) and Russia- and Iran-backed Syrian government forces are fighting based on competing agendas and civilians are fleeing the city of Deir al-Zour. Nick Paton Walsh, Salma Abdelaziz and Naz Sayed report at the CNN.
The U.S.-led coalition today denied striking Deir al-Zour city after the Syrian army accused the coalition jets of killing civilians yesterday, the U.K.-based Syrian Observatory for Human Rights said that at least 22 people were killed but it was unclear who was responsible. Reuters reports.
A mass killing of civilians in the Syrian town of Qarytayan in Homs province was carried out by retreating Islamic State militants as they were driven out by pro-government forces, Syrian state media reported yesterday, demonstrating the terrorist groups ability to inflict damage and harm civilians even as it loses most of its territory. Anne Barnard reports at the New York Times.
Less than five percent of Syria remains under the control of the Islamic State group, Russias Defense Minister Sergei Shoigu said yesterday, the AP reports.
Turkeys military operation in the northwest Idlib province has largely been completed, the Turkish President Reçep Tayyip Erdoğan said today, Reuters reporting.
The U.N. Security Council is scheduled to vote today on extending the work of the Joint Investigative Mechanism (J.I.M.) looking at responsibility for chemical weapons attacks in Syria, the U.N.-sponsored resolution has the strong support of U.S. ambassador to the U.N. Nikki Haley, however the Russian ambassador has criticized the investigation. Edith M. Lederer reports at the AP.
The pro-Syrian government forces siege of the capital of Damascus and its surrounding suburbs has worsened the humanitarian crisis, leading to children dying of malnourishment. Raja Abdulrahim reports at the Wall Street Journal.
Israels military activity in Syria has happened sporadically and is thought to be as a consequence of stray fire landing in the Israeli-occupied Golan Heights, despite the exchange of fire, the possibility of a major escalation between Israel and Syria is unlikely. Zena Tahhan provides an analysis of Israels involvement at Al Jazeera.
The Free Syrian Army rebels have credited Iran for the success of the President Bashar al-Assads army, and Iran has been expanding its influence in Syria to serve its socioeconomic ambitions. Ali Younes and Shafik Mandhai explain at Al Jazeera.
What has the U.S. campaign against the Islamic State group accomplished and what does their impending defeat mean for the future? Stephen M. Walt provides an analysis at Foreign Policy.
U.S.-led airstrikes continue. U.S. and coalition forces carried out seven airstrikes against Islamic State targets in Syria on October 22. Separately, partner forces conducted three strikes against targets in Iraq. [Central Command]
IRAQ
Secretary of State Rex Tillerson received a chilly reception on his visit to Iraq to meet Iraqi Prime Minister Haider al-Abadi yesterday, Tillerson having made unfortunate comments about Iranian-backed militia members of the Population Mobilization Forces (P.M.F.) on Sunday, mistakenly stating that the militia are Iranian when they are Iraqi. Gardiner Harris reports at the New York Times.
The P.M.F. should be encouraged because they will be the hope of the country and the region, Abadis office said yesterday, the BBC reports.
We have friends in Baghdad and friends in Erbil and we encourage all parties to enter into discussion, Tillerson said yesterday, referring to the capital of the semi-autonomous Kurdish Regional Government (K.R.G.) of Erbil and urging dialogue between the two U.S. allies who have been at loggerheads since last months controversial Iraqi Kurdistan independence referendum. Jonathan Landay and Maher Chmaytelli report at Reuters.
The K.R.G. accused Iraqi federal forces of launching an attack south of a Kurdish oil export pipeline today toward the border with Turkey, the Baghdad government responded that there are no clashes taking place, Reuters reporting.
We call on the Iraqi government to immediately cease its military aggression and withdraw from all territories, the Kurdistan Region Security Council said yesterday, expressing concern about the dangerous deployment of Iraqi federal forces near the border of the Kurdish region. Al Jazeera reports.
AFGHANISTAN
The U.S. is looking to engage with the more moderate voices among the Taliban who do not want to continue to fight forever, Secretary of State Rex Tillerson said yesterday during an unannounced visit to Afghanistan, stating that the fight against the Taliban must continue but there would be a place for the Taliban in government if they renounce terrorism and violence and commit to a stable and prosperous Afghanistan. Rebecca Kheel reports at the Hill.
If America genuinely wants a peaceful settlement of the crisis then it needs to pull out its troops and end the occupation, the Taliban spokesperson Zabiullah Majid said yesterday in response to Tillersons suggestion that some Taliban fighters would be willing to give up fighting. Antonio Olivo and Carole Morello report at the Washington Post.
Pakistans cooperation is essential for defeating the Taliban, Tillerson said yesterday, saying that the U.S. has made some very specific requests to Pakistan to curb support for the militant group. Paul Sonne and Craig Nelson report at the Wall Street Journal.
A feature on the notorious former al-Qaeda and Taliban ally Gulbuddin Hekmatyar, who has returned to Kabul to call for unity, is provided by Sune Engel Rasmussen at the Guardian.
NORTH KOREA
The threat posed by North Korea has reached an unprecedented, critical and imminent level, Japans Defense Minister Itsunori Onodera told his U.S. and South Korean counterparts yesterday at a tripartite meeting, reiterating Japans support for the U.S. position that all options are on the table to deal with the Pyongyang regime. Gordon Lubold reports at the Wall Street Journal.
President Trump will urge Chinese President Xi Jinping to fully implement U.N. Security Council resolutions against North Korea when he visits China next month, a senior White House official said yesterday. Steve Holland and Matt Spetalnick report at Reuters.
The U.S., South Korea and Japan began a two-day missile tracking drill today off the coasts of South Korea and Japan to prepare for any nuclear or missile threats from North Korea. Reuters reports.
Trump should lower the volume of rhetoric on North Korea, the former Defense Secretary Leon Panetta said yesterday, saying that the administration should focus on developing both our strength and capacity in the region, Ellen Mitchell reporting at the Hill.
Trump has been boosted by Abes decisive re-election as Abe has been a strong ally of Trump and supports his aggressive approach to North Korea. James Griffiths explains at CNN.
Japanese Prime Minister Shinzo Abe has been aided by Chinese President Xi Jinping and the North Korean threat in his mission to change Japans pacifist constitution and Abes efforts to bolster Japans defense capabilities are moderate and long overdue. The Wall Street Journal editorial board writes.
SOUTH SUDAN
The U.S. would continue to send aid to South Sudan despite the civil war and concerns about human rights abuses, the U.S. ambassador to the U.N. Nikki Haley said yesterday, warning that South Sudan could become a breeding ground for extremism. The AP reports.
The Trump administration faces a difficult task dealing with the civil war in South Sudan, Kevin Sieff and Anne Gearan provide context to the conflict and the U.S.s role at the Washington Post.
TRUMP ADMINISTRATION FOREIGN POLICY
The U.S. would consider imposing targeted sanctions on those responsible for violence against Myanmars Rohingya Muslim minority, the State Department said yesterday, Reuters reporting.
Defense Secretary Jim Mattis trip to the Philippines today comes at an opportune time due to the recent defeat of Islamic State affiliates in the Philippine city of Marawi with the help from the U.S. military, however it also poses challenges as the Philippine President Rodrigo Duterte has embarked on a campaign to cultivate ties with Russia and China. Phil Stewart and Manuel Mogato explain at Reuters.
TRUMP-RUSSIA
Russias state R.T. news outlet has utilized social media to distribute content, and the news organization which has been labeled the Kremlins principal international propaganda outlet by federal intelligence officials has had an extensive reach and its relationship with YouTube is drawing closer scrutiny as part of the investigation into Russian interference in U.S. politics. Daisuke Wakabayashi and Nicholas Confessore report at the New York Times.
Trumps personal lawyer and associate Michael Cohen is scheduled to appear before the House Intelligence Committee today in a private session as part of the committees investigation into Russian interference in the 2016 U.S. election. NBC News reports.
Russian troll farms were partly located on U.S. soil, Katie Zavadski, Ben Collins, Kevin Poulsen and Spencer Ackerman reveal at The Daily Beast.
The efficacy of Facebooks fact-checking should be questioned and we should be cautious about placing too much trust in a private algorithm, Brendan Nyhan writes at the New York Times.
SGT. BOWE BERGDAHL
Trumps comments about Sgt. Bowe Bergdahl, who walked off his military base in Afghanistan in 2009 and was captured by the Taliban soon after, has delayed sentencing proceedings, the president having made disparaging remarks about the sergeant. Morgan Radford and Corky Siemaszko report at NBC News.
The military judge presiding over Bergdahls sentencing yesterday expressed concern about perception of fairness in light of the presidents comments, Jonathan Drew reports at the AP.
A summary of Bergdahls circumstances and the legal battles over his case and sentencing is provided by Richard A. Oppel Jr. at the New York Times.
OTHER DEVELOPMENTS
Several U.S. government employees will be sent back to their posts in Venezuela after they were withdrawn in July amid unrest and anti-government protests, the AP reports.
The 2015 Iran nuclear deal would survive in spite of the U.S. decision not to certify Irans compliance with the agreement, the U.K. Foreign Secretary Boris Johnson said yesterday, Reuters reporting.  
The Gulf crisis could see more complications, Kuwaits ruler Sheikh Sabad Al Ahmad Al Sabah warned today, saying that the crisis which began on June 5 when Saudi Arabia, U.A.E., Egypt and Bahrain isolated Qatar due to its alleged support for terrorism and ties to Iran will have a negative effect regionally and internationally. The AP reports.
The founder of Kaspersky Lab Eugene Kaspersky has ruled out moving the cybersecurity firm away from Russia to temper U.S. concerns about the software being used for Russian espionage, Kaspersky saying yesterday that he could not change his origin or his companys foundation. Joe Uchill reports at the Hill.
Chinas President Xi Jinping has been elevated to the level of Chairman Mao Zedong, representing Xis tight grip on power and unassailable position in the Communist Party hierarchy. The BBC reports.
 Just Security
Trump officials suddenly revoke visa of hero being hunted by Putin
---
With the Russia investigation still gathering steam, the last thing anyone in the Trump administration should do now is create the impression they are cooperating with Russian President Vladimir Putin's assaults on human rights.
Which is why the State Department's sudden move against Putin critic Bill Browder — at the exact same time Russia is trying to mark him as an internationally wanted man — is so confounding.
Last week, Putin forced Interpol to issue a "red notice" for Browder, putting him on a global wanted list, despite the fact he has committed no crime. In theory, this is not a danger to Browder — Putin has tried on four previous occasions to flag him on Interpol, and every time Western democracies ignored it.
But this time, with no explanation, the State Department revoked Browder's U.S. visa, restricting his freedom of movement at exactly the same time that Russia is hunting for him.
Such a move creates the impression that Trump administration officials are sympathetic to Putin's crusade against a political foe.
Browder, a U.S.-born British financier whose former lawyer, Sergei Magnitsky, was tortured to deathin a Russian prison after exposing the corruption of Putin's inner circle, has been instrumental in pushing democratic nations to hold Russia to account for political murder. His activism has prompted four countries — the United States, the United Kingdom, Canada, and Estonia — to adopt "Magnitsky Acts."
These laws, which block the Russian oligarchs who killed Magnitsky from using assets they looted from their country and stashed overseas, are the only significant consequence Putin has faced for his crimes. And Browder is at the top of the list of people he blames.
Sympathy for Russia is nothing new from Donald Trump. On the campaign trail, he frequently said he wished America would "get along" with Russia, despite the fact that even then the Russian cyberattacks on the U.S. election were widely known. More recently, Trump has refused to enforce new Russian sanctions that were passed nearly unanimously in Congress.
But the rescission of Browder's visa looks particularly bad for Secretary of State Rex Tillerson, who at his confirmation hearing pledged he would support the Magnitsky Act. This move creates the impression that Tillerson was either lying or, to use Sen. Bob Corker's memorable characterization, has been "castrated."
If the U.S. no longer cares to stand with the targets of the Putin regime's political wrath, our moral authority on human rights is only degraded further. The State Department owes the American people answers, and a commitment to stand with democracy and justice.